Free Online Keyboard Lessons
From May Music Studio
Here you can find links to free online keyboard lessons and piano lessons on this site. Have a good time with them! These online lessons are intended to help you get started, give you some new ideas, and supplement your current course of study. There is, however nothing like a good teacher, especially when studying piano.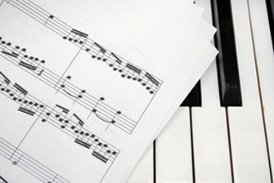 If you are just beginning, the first lesson is the place to start.
For those of you who are more experienced, remember that SCALES and CHORDS are the building blocks of ALL MUSIC.
Beethoven used the same scales and chords as the pop or rock musicians that you may listen to. In fact, if you think about it, there are only twelve different notes.
It's all a matter of what you do with those twelve.So practice the basics and then you will be ready to find your OWN musical voice!
When you finish these lessons, you will want to check out the theory and composition lessons on the site.
LESSONS


BEGINNING PIANO LESSONS

Notation Basics and Reading Keyboard Music--Treble Clef

Reading Bass Clef Notes

BEGINNING PIANO SCALES

PIANO SCALES--MAJOR

PIANO MAJOR CHORDS

PIANO MINOR CHORDS

PIANO CHORD INVERSIONS

NATURAL MINOR PIANO SCALES


Harmonizing the Minor Scales--A Mini-Ebook
I have compiled Guitar Pro charts of the chords resulting from the three forms of the minor scale in all twelve keys. These charts include both piano and guitar notation. If you are interested in learning in depth about harmonizing the minor scales, these are well organized, comprehensive, and easy to understand.
HARMONIZING THE MINOR SCALES -- $36.00 USD
PIANO EXTENDED CHORDS

PIANO ARPEGGIOS (Major and Minor)

BLUES CHORD PROGRESSIONS


BLUES PIANO LESSONS--Basic 12-Bar Blues Exercises


For Information on more Music Theory Topics Go To:
Music Theory Basics

TIPS FOR BUYING KEYBOARDS

ASK PIANO QUESTIONS

New!Keyboard Music Books
Spice up your playing--Find great music at discount prices!
Discover Keyboards on Sale Now.! Best Prices & Deals
New!Free Printable Piano Chord Charts--Major and Minor Triads

New!Free Printable Piano Chord Charts--Dominant Seventh Chords
Give YOUR favorite Piano Player a Little LOVE!
Link To This Site!