Musician Promotion:
Featured Artists
Musician Promotion at May Music Studio
Featured Artists
Are you a musical artist? Then you know how much dedication and hard work goes into developing your talent. Would you like a FREE avenue for sharing your artistry with the whole world wide web? May Music Studio's Musician Promotion area is here to help!
You can tell us about your talent, send us a picture of yourself, and we will build a web page JUST FOR YOU! These pages are submitted to the major search engines so that YOU can be found on the internet.
In addition, we will be periodically choosing "Premier Artists" from these pages and featuring full length articles and mp3 files for these artists on this page. Take a moment to meet our first Premier Artist and then we will tell you how to submit YOUR Information!
Are you SERIOUS about making your way in the Music Business? If you are, it would be worth your time to check out Music Producer Pro !
Music Producer Pro contains a gigantic amount of cutting edge, technology assisted information including Certified power instruction, 14 Video lessons, 20 audio lessons, Mp3 instruction, 1000 documented resources and step by step instructions for all stages.
Premier Artist--Michael Signorelli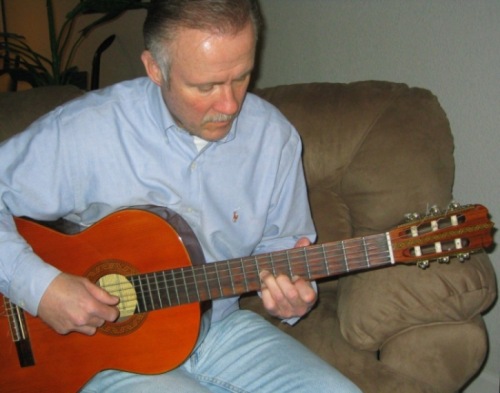 Michael earned his BA in Guitar Performance from University of Missouri Kansas City. In Michael's own words:
BIO
" I played with blues/rock bands in college six nights a week which got me through college and lots of money left over after graduation.....somehow over 300 people showed up for my senior recital to graduate, I thought maybe 30 or so friends and family would show but I didn't know that the University publishes those recitals in the major news paper (the most nervous hour of my life)....I still fill in for several bands in town when a guitar player is sick or other reasons. Just as in college, I mainly play a lot of Clapton(Cream), Stevie Ray Vaughn, Led Zeppelin (love Jimmie Page)."
GUITARS
Among Michael's guitars is the 1973 Grade No. 1A Garcia Classical Guitar from Antiqua Casa Sherry-Brener Ltd. of Madrid, Spain that you see him playing in the photo. This guitar has a wonderful rich resonance which comes only with years of aging of the wood. He did not ask me to mention that this guitar is actually for sale (Sorry, Michael, I could not resist!) If you are interested, please Contact May Music Studio and I will put you in touch with Michael. One of Michael's "other guitars" is a 1977 Gibson Les Paul Custom "Black Beauty". (That one is NOT for sale!) MUSIC You can hear some of Michael's classical guitar music here: This is "Cavatina" from the soundtrack of "The Deer Hunter".
GREAT music, Michael. We wish you all the best!
May Music Studio Musician Promotion
Are you ready to build YOUR page so the world can share your talents? All you have to do is to follow the instructions below.If you need help, just click on the little question marks. Please note that there is a maximum size for photos--click on the "?" for more information.
Would YOU like to be a Featured Artist?
Are you a musical artist? You can be be a FEATURED ARTIST on the May Music Studio Website! Just follow the instructions below to submit your information for inclusion in our Musician Promotion area.
Featured Artists!
Click below to see the May Music Studio Featured Artists!
Leave "Musician Promotion" and Go to Absolutely Free Music Lessons Home