Learn to Play Bass Guitar:
Absolutely Free Bass Guitar Lessons!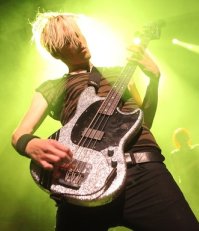 Do you want to learn to play bass guitar? Is your budget limited?
Welcome to Absolutely FREE Bass Guitar Lessons!
These lessons are designed to take you from the very beginning steps of tuning your bass and learning the names of the bass guitar notes to perfecting bass guitar scales and playing amazing solos.
You can also find resources for discount new and used basses, the best bass guitar strings, and how to read and find the best bass guitar tabs. We have even included some free Guitar Pro bass licks from your favorite songs.
How to Use These Lessons:
I recommend that beginners start with the first lesson and proceed in order through the lessons. Those of you with more experience may choose the topics that you find interesting, but you may want to review previous topics to be sure that you are not missing any essential information or skills.
You can learn to play Bass Guitar Free!
A Word About Equipment
To be a successful bass guitarist, you must have quality equipment--the best that you can afford. It makes sense to get the best deals on bass guitars, bass amps, and bass accessories.I buy all of my equipment from online dealers. The prices are always much better than at your local music store and the shipping is free. I have never had a problem with quality or service. Here are links to two of my favorites:
Everything for Guitarists at Musicians Friend!
Great Guitar Deals at ZZounds!
Here are the Free Bass Guitar Lessons:
Practicing Scales--Fast Repeated Notes
Bass Guitar Chords--Major Chords
Bass Guitar Chords--Minor Chords
Quality Basses at Discount Prices!
New!! DRUM BACKING TRACKS
Do you need drum tracks to practice with? We have just added a whole section of midi drum backing tracks! Now you can practice with the original drum part. Check them out at Almost Free Drum Tracks
**To further your music education, you will want to check out the Music Theory section of this site.