What brand of drums should i buy for a more metal sound?
by bradley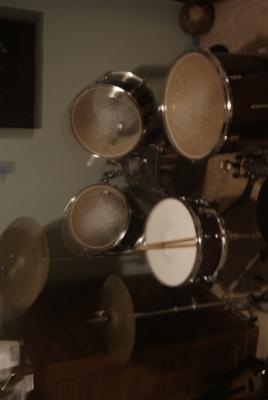 my kit
hi, my name is bradley i have been drumming for 6-8 months now and am still using everything from my starter kit. it is a dxp kit(i think :/) a cost me 500$ while i don't mind the kit, it doesn't produce the sounds that i want. i'm learning avenged sevenfold at the moment but i eventually want to move on to bands like nile, lamb of god, devildriver etc. i know i need a ride but honestly i have no clue what i am looking for. i eventually want to upgrade all of it when i get the money and i am just wondering how i can and what i can buy to make the sounds more metalish. at the moment its more of a rock sound. hoping you guys can help, really appreciate and thankyou :)


also is there anything i can do to get rid of the white marks off the skins and cymbals? thanks
ANSWER
Hi, Bradley--
Try upgrading your cymbals first. These are designed by Joey Jordison and are great for metal:

Paiste Black Alpha SK Core Set Standard
When you are ready to upgrade your set, try these:

Pork Pie 7-Piece Standard Black Glass Maple Drum Shell Pack Standard
As far as the white marks, the cymbals can be cleaned with

Sabian Cymbal Cleaner Standard
.
The marks on the heads will not hurt anything and are best left alone.
By the way, have you checked out our
Almost Free Drum Tabs
?
These are quality drum tab presented in traditional notation. They are guaranteed accurate and easy to read.
Once you experience these tabs, you will never want to go back to the inaccurate and difficult to read tabs that you find free on the internet. You can even order custom made drum tabs for ANY song!
Lynne