Money by Pink Floyd
Free Guitar Pro Bass Tab
This tab is for "Money" by Pink Floyd. The Intro, Verse, and Chorus sections are tabbed. This is a great way to get started playing this classic rock song!
About This Song
"This song is the 6th track on the 1973 "Dark Side of the Moon" album. It was written by bassist Roger Waters. It was musically unusual for its time because of the beginning time signature of 7/4.
The song reached number 13 on the Billboard charts in 1973. It also was ranked number 69 on the list of "The 100 Greatest Guitar Songs of All Time" of Rolling Stone Magazine.
The musicians on this song are:
* David Gilmour - vocals, guitars
* Roger Waters - bass guitar
* Richard Wright - Wurlitzer electric piano (with wah effect)
* Nick Mason - drums
* Dick Parry - tenor saxophone
About Roger Waters
Roger Waters is an English born bassist. He has left Pink Floyd and rejoined them several times during the band's long career.
Roger has payed Hofner and Rickenbacker but since 1970 has been playing Fender Precision basses. He currently uses Ampeg amps and his effects include delay, tremolo, chorus, stereo panning and phaser.
Here is the tab--have fun with it!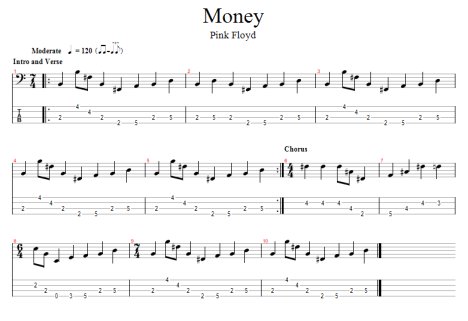 Link To This Site!
Leave "Money" and Go To Main Free Bass Lessons Index